EXO (엑소) – Members, Profile
Exo (엑소) is a South Korean-Chinese boy band that consists of nine members: Xiumin, Suho, Lay, Baekhyun, Chen, Chanyeol, D.O., Kai, and Sehun. The band is based in South Korea and was formed by SM Entertainment.
Early time of EXO (엑소)
The CEO of SM Entertainment, Lee Soo-man, thought of debuting a new boy band. After that, several members were changed, and finally, the group's name was fixed to be EXO.
The first member to join SM Entertainment was Exo's leader, Suho, who joined the band in 2006. After that, gradually other band members started joining the band and finally the band was formed.
While their debut, the South Korean-Chinese band had 12 members, but three Kris, Luhan, and Tao left the group after legal battles in 2015 and 2016.
The band was compared to fellow SM boy band TVQX when the news about their debut was revealed. Moreover, it was also said that they would compete with a new girl group from rival YG Entertainment.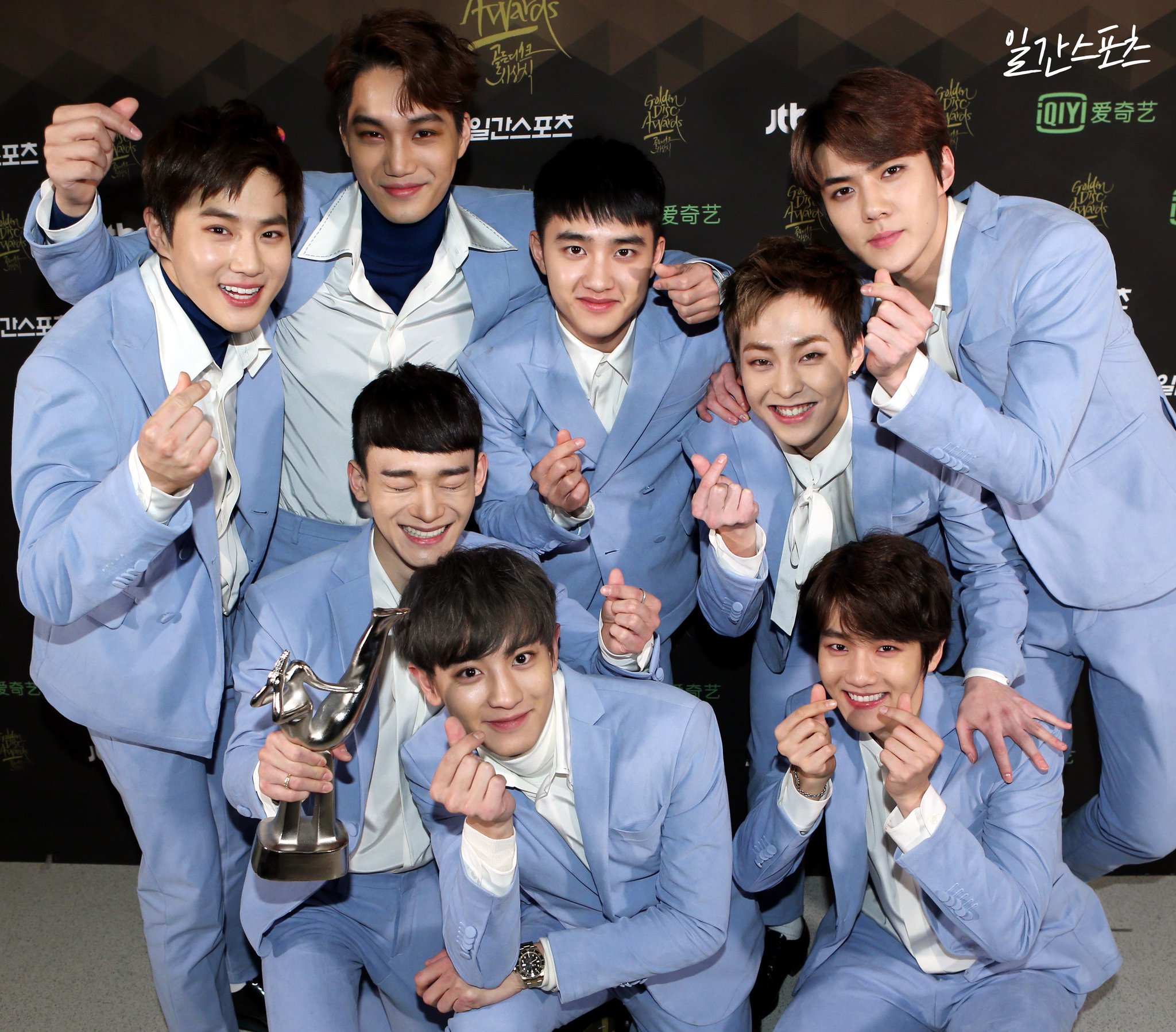 Journey of EXO (엑소)
Exo made its debut in 2012 with its music released and performed in Korean, Mandarin, and Japanese. The band also ranked as one of the top five most influential celebrities of the Forbes Korea Power Celebrity.
The band has completed a long journey with its nine members composing and performing world-class and superhit songs. During its professional journey, Exo has also been divided into two sub-units, namely Exo-CBX and Exo-SC.
Exo-CBX
This was the first sub-unit of the band and was formed in October 2016. Exo-CBX is also known as Chen-Baek-Xi, and it is composed of three members: Chen, Baekhyun, and Xiumin.
This sub-unit has composed one studio album named 1 Billion Views (2020) and one extended play, What a Life, released in 2019.
EXO-SC
This sub-unit was formed as the group's second unit in July 2019, and it consists of two members: Sehun Chanyeol.
Discography
The band is considered the vocal powerhouse in the K-Pop industry, and the three lead singers D.O., Chen, and Baekhyun have received praise on social media from a lot of industry figures.
The band released many blockbuster songs throughout their career journey, including Love Shot, Ko Ko Bop, The Eve, Growl, Monster, Wolf, Electric Kiss, Lucky One, Love Me Right Way, and there are many more on the list.
Moreover, this band has also composed four Korean and Chinese albums such as XOXO (2013), Exodus (2015), Ex'Act (2016), and The War (2017)
The group has also worked with veteran Korean and international producers such as Kenzie, Dean, LDN Noise, The Underdogs, and MARZ Music.
Exo had to face a lot of criticisms in the early stage of their career because they lacked involvement in the writing and producing of their songs.
After that, the band members started to write their lyrics. Finally, in 2015, they released their first song, and the writing credit was given to one of the group members.
The band has also been praised for its beautiful choreography and elaborate stage designs. At the beginning of their careers, Exo was choreographed by American hip hop choreographers Tony Testa and Nicholas Bass.
EXO's Fimlography
The South Korean-Chinese band has also appeared in several Reality TV Shows such as Exo's Showtime (2013), XOXO Exo (2014), SurpLines Exo (2015), Exo Channel (2015), Exo Arcade (2018), Heart 4 U (2019), etc.
Moreover, all the band members have also appeared in a drama titled Exo Next Door, released in 2015.
Awards & Achievements
Exo has won a lot of awards throughout its career, both in South Korea and internationally. However, the band earned their first-ever music show win in June 2013 for the song titled Wolf.
Moreover, Exo has received 23 Daesang (grand prizes) awards from various year-end award shows. Also, the band has received a Prime Minister Commendation at the Korean Popular Culture and Arts Awards.
EXO's Social Media Prencense
The South Korean-Chinese band is active on social media platforms, including Instagram and Twitter. In addition, This boy band keeps providing every update about their band members through their social media accounts.
The band has an official Instagram account under the username weareone.exo, where the band has shared 1870 posts and more than 9.4 million people follow this band on Instagram.
Moreover, this band is also active on Twitter, with a total of 12.1 million followers. Thus, the fans and supporters of this band can get to know even the most minor details about the band and its members.
Facts About EXO (엑소)
Sehun, one of the members of Exo, loves to pull pranks on his band mates.
Baekhyun loves to play cards and he is a genius in card games.
All the members of the band love ketchup.
Baekhyun is also known to be against animal abuse and is an avid animal lover.
Luhan loves to imitate Kai's dancing, specially during the screamo and crotch grabbing part.
To know more about your favorite Korean Groups Keep Visiting Korean Mag.
Lee Shi Woo(이시우)-Actress, Profile, Career, Net Worth & Facts 
Lee Shi Woo (이시우) is a South Korean actress and model under Big Picture Entertainment. She began modeling in the late 2010s. In 2021, Lee made her acting debut in the film Sisyphus: The Myth.
Profile 
Lee Shi Woo (이시우) was born on September 5, 1997, in South Korea. Lee's present age is 27 years old. Her zodiac sign is Virgo.
The educational background is kept hidden from the public eye. She is, nevertheless, thought to be a graduate student.
Her family comprises three individuals. According to the sources, her father and mother are involved. Her parents' names and locations, on the other hand, remain hidden from the public eye and the internet.
Furthermore, the actress has managed to keep her personal life as private as possible. 
Body Stats
Lee Shi Woo (이시우) maintains her physical fitness and health through frequent workouts and a balanced diet, which enable her to stay in shape for her roles.
She is 5 feet 4 inches (165 cm) tall and weighs 45 kg (99.2 lbs). In addition, neither her physical dimensions nor her shoe size is disclosed. Lee's light brown hair and dark brown eyes are naturally hers, as with white skin.
Furthermore, due to her daring and gorgeous physical appearance, she has gained a lot of attention.
Likewise, her blood type is also hidden from the general public for personal reasons. These are the only physical characteristics about her that have been revealed.
Quick Information About Lee Shi Woo (이시우)
| | |
| --- | --- |
| Full Name | Lee Shi Woo (이시우) |
| Native Name | (이시우) |
| Stage Name | N/A |
| Birthday | September 5, 1997 |
| Birth Place | South Korea |
| Nationality | South Korean |
| Parents | Father and mother |
| Sibling | N/A |
| Occupation | Actress |
| Associated Act | N/A |
| Agency | Big Picture Entertainment |
| Zodiac | Virgo |
| Height | 5 feet 4 inches (165 cm) |
| Weight | 54 kg (119.04 lbs) |
| Blood Type | N/A |
| MBTI Type | ENFP |
| Relationship Status | Single |
| Partner | undisclosed |
| Net Worth | $1 to $5million |
Career 
Lee Shi Woo (이시우) committed to her career, participating in several modeling exhibitions while still in high school.
She began modeling in the late 2010s and was featured on the cover of the South Korean magazine Graphy in 2018. Lee debuted as a model for Big Picture Entertainment in 2018. In 2021, she made her acting debut in Sisyphus: The Myth, portraying Bing Bing and Lee Ji-hun. In 2021, she was cast as Oh Ji-na in the online series Be My Boyfriend.
She has been in various popular movies and online series since her debut.
Sisyphus: The Myth
Sh**ting Stars
Drama Stage – Babel Syndrome
Be My Boyfriend
Money Heist: Korea – Joint Economic Area
Lee Shi Woo Dating
Lee Shi Woo hasn't been in the industry for long, her previous relationships are unclear, and haven't disclosed her personal life. However, with a supporting role in the newly aired drama Sh**ting Stars, she was shipped with her co-star by netizens and has gained huge support from the audiences.
Social Media Appearance
Shiwoo is positively active on social media platforms like Instagram with a verified username (@s2xwo) which has over 122k followers. She likes to share her daily lifestyle, behind the scenes of her work. Shiwoo also has fan pages that support her and share many photos and updates on her new projects.
Net Worth
Lee Shi Woo (이시우) 's as an uprising actress has been getting new roles and opportunities for new dramas and series. Besides, she also does endorsements, modeling, and advertisements which adds up to her income sources.
As of 2022, her net worth is estimated to be between $1 million- $2 million USD. Her enormous net worth is derived from her earnings and revenue from her acting and modeling profession. She does make money from a variety of endorsements and advertisements.
Facts about Lee Shi Woo (이시우)
She enjoys traveling the world with her companions.

Lee Si-wu is another name for her.
In South Korea, she is a well-known actress.
Her commitment is to acting and modeling.
Keep visiting Korean Mag to read more articles about your favorited K-pop artists and idols.